This is a receipt of an order I took at my first wholesale show in NYC. I sent the order out and never got paid!! But check out the prices. Oy vey. And I don't even remember making some of these items. I recently found a pile of old slides and hope to find pix of these. Whales??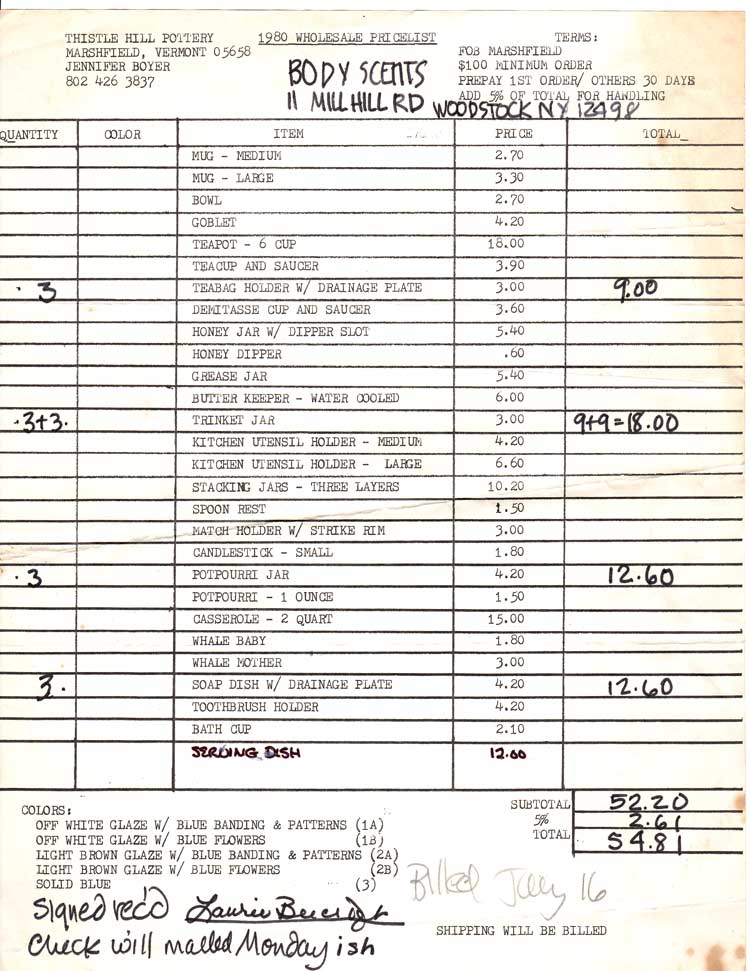 ---
BEST CUSTOMER LETTERS:
"Thought you might like to hear that you have a couple of fans in Tennessee. My daughter from Vermont introduced us to Thistle Hill Pottery last year. We now have 9 pieces of the lovely pottery and use it every day. I can only say that to us the pottery is art at its best.
The simplicity and grace of the design and the sensibility of the forms combine to produce objects that are both beautiful and useful. Besides, the pieces recall our trips to Vermont and remind us of our young people there: beautiful, strong, and true. It must be rewarding to you to design and create pieces that touch strangers so that we are moved to write to tell you so. Keep up your good work! And thank you."
---
ANOTHER LETTER:
I got this one in December of 2017, 4 years after I retire red:
"Hi Jennifer,
I received several white/ iris pieces as a wedding gift in 1993.
I was down to my last cherished piece- a 9inch pie plate
My daughter shattered it on a tile floor and i started crying because I loved it so much and the person who gave me the 2 complete sets, who has since past away….anyway I was wondering if I can find replacements somewhere, I see you have retired and I thought I would try emailing. Thanks for bringing me so much joy over the years. Steph"
---
I had an elementary school class come and watch me work. I loved this thank you note!!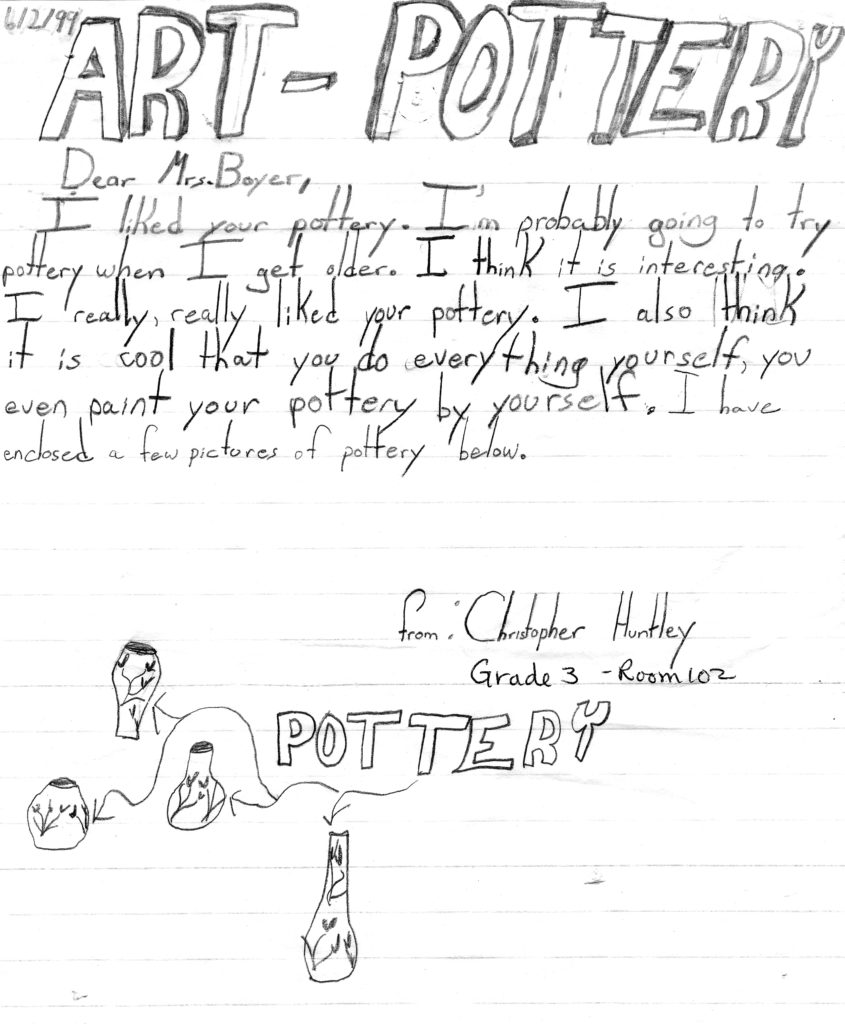 ---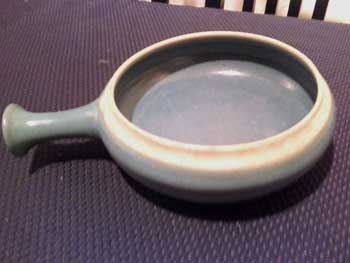 Our son Tim wasn't particularly interested in the pottery studio as a kid. His friends would jump at the chance to make something with me, but Tim would rather have been playing ball. After college he moved to Chicago from Vermont and eventually went to grad school at U of C. One day I got an email from him, with this pic attached. He had been waiting for a friend in the lobby of her apartment building and noticed this little pot. It looked familiar! He turned it over and saw MY chop mark on it. The funny thing is that I hadn't used that glaze combo in many years, possibly as far back as 20 years. Tim had mainly seen my pottery with the brushwork on it. But he knew his Momma's style.
The little pot had been a handled casserole. I guess the land lady broke the lid and set the bowl part out in the public area rather than throw it out. Tim said she told him she had travelled to Vermont several times, and my pottery was in at least a half dozen galleries around the state.
I tried to get him to ask the land lady if I could buy it back, but he said his friend was having some kind of tenant drama at that point, and the request was not possible. But at least I have this picture.
---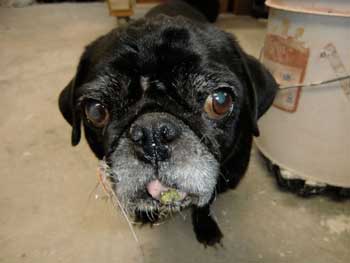 This is Louise. She was our 7th dog, a rescue Pug from Maryland. She had high maintenance health issues, but was such a kind, loyal dog. Not too many smarts, decidedly ugly, but I adored her. She would graze the studio, going under tables, into corners, looking for chunks of clay to eat. I would occasionally find white stoneware poops outside. She picked up all sorts of "schmutz" on her face during cleaning excursions and sometimes I laughed until I cried! I miss good ole Louise.
---
I participated in a great potters' discussion group called Clayart for about 20 years. At one point we were all discussing the safety of glaze ingredients and everyone was getting pretty paranoid about our common materials and whether our glazes would leach dangerous chemicals, so I went on a crazy slide into…:
Nutrimugs
"Why didn't we all think of this before??  Just think of it. A shelf in your drug store: NutriMugs.  Glazes custom made to leach just the right balance of ingredients into your tea for optimum health:  Lithium mugs for depression. Calcium/magnesium mugs for strong bones. Iron mugs for anemia. Kaolin mugs for bowel problems. Chromium mugs for weight loss. We could make up something for Silica mugs.  Wollastonite mugs should cost extra cuz the name sounds pricey. Am I on to something here or what?
This has to be how  we potters finally join the millionaire's club.  Ron Roy can help us formulate glazes that leach like crazy, and people will need to buy more mugs as theirs leach out. We would charge hefty fees for mug testing.  Or maybe the mugs should fade when leached out, like the toothbrushes. Nonleaching mugs would be tossed.  We would document the leachiness of the glaze with an Alfred Lab guarantee…..
Shoot, I just burned dinner writing this…..
Jennifer, extremely testy after a hard week.  Sorry. The crematorium kiln got me going….   ;-)"
Ideas this thread triggered when it was posted way back on Clayart:
Demitasse mugs for under 5 yrs old.
Large mugs for big boys.
Individual family member mugs (don't use another's medication).
No beer steins (mustn't mix alcohol & medications).
And what about the ultimate in Diet Mugs? A cylinder with a handle and no bottom!
We could take a leaf out of Lucretia Borgia's book gifts for those folk you love to hate?  A Barium rich leaching mug with some Manganese decoration? Mayor Mel can dole these out to Clayart grouches <G>
What a neat idea. I would like to wait until you have refined the method so much, that the chemical combination emulates the taste of whisky and ginger in the winter and gin, tonic with a twist of lemon in the summer. Just add water and away you go…
According to the original Hebrew, Jesus was a "master craftsman" or "master builder" (not a carpenter specifically) so maybe he was a potter and the water to wine trick was the original version of your idea? They do after all say that everything is in the bible and there is not such thing as a new idea.
I suspect arsenic mugs would be top of the high leaching request list. You may find an even bigger demand for these if you are prepared to write "To Pansy Lily, the best mother-in-law in the world" and stuff like that on them to order. A real get rich quick idea".
---
The same Potter's discussion group had some inventive participants and one came up with this poster and many of us bought it from her: